It's been quite a year. The weather wasn't brilliant by any means but we managed to get a thousand Km on the odometer and no major mishaps or breakdowns.
I fitted a crashbar, sorted my GPS out and had the dent in the tank removed. I'm looking forward to Christmas, the missus has bought a windshield for me to fit to Thumper.
I ordered a Parts list Book and a Workshop Manual. These too, are going into the Yuletide pile.
Thumper has gone into hibernation. I brimmed the fuel tank and checked the oil level. The battery will be charged periodically if necessary. Right now he is sleeping happily in the shed, under his blankets and waterproof poncho. The poncho is a bit of extra unnecessary protection really. The shed is well insulated from the elements and I can even warm it up.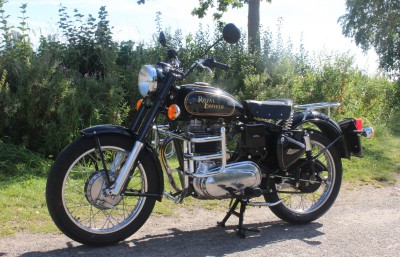 So, thanks for another year of joy Thumper. Roll on Spring, where we can get out on the road again.
Sleep well.