The weather has been particularly nice all through spring this year. It pained me that Thumper was out of commission for so long that, when he was fixed, I had to get him out. I haven't refuelled since I was forced to send him to the shed so I was a little worried about ethanol and stuff but, as it turned out, all was well.
I decided to take the usual cruise around the island on which I live. It's not a long run by any means but it can be quite picturesque, varying from woodland cover on the roadside to open coastline. There is a cafe at the harbour in Dragør which I used to visit regularly. It is popular with the biking fraternity. I decided to make a point of stopping there.
There is no real green laning allowed in this land. The State has laid claim to most of the woodland and cars and bikes are not welcome. There are private woods, but without permission to be there, you are trespassing. Occasionally the road passes through woodland. That is the closest we can get. I found such a road yesterday.
It isn't long but it is a pretty place to ride. I couldn't resist a photo opportunity.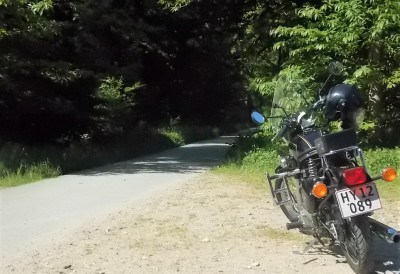 It's a bit "Robert Frost". Whom I shall now quote: "The woods are lovely, dark and deep.." Which indeed they are. Unfortunately one can't ride through them though. So I had to stay on the black bit..
Out of the woods I headed for the coastline. Plodding around at a steady 40 MPH is a grand way to spend the morning. There is an open piece of road on the coast though, where we can exercise a bit of accelertion and sustain a higher rate of knots. I did so. It was exhiliarating…
Soon at my cafe, I parked up and settled for a coffee and a cigarette. To my chagrin I discovered that one of my two favourite cafes had suffered a fire. The building is virtually gutted but somehow, they kept the outside area running and are working from a mobile kitchen. Hats off to them.
Break over, I set off further up the coast, past the airport for a Tom Cruise moment and then further on toward the eastern coastline.
Again, a break to suck up the sea air and a chat with a fellow Brit who was attracted by the sound of Thumper's engine. A good chat with him and a cigarette later, I pointed Thumper toward home and took a leisurely ride back to my humble abode.
Having ascertained that all is well with Thumper I am considering a longer trip to the North of Sealland to visit my old mate and my daughter.
We'll see how that goes.
It's great to be back on the road again.